Today I felt like a gross mutant.
I don't know why our bodies have to be so disgusting when we are sick. Mucus, and coughing, blowing our noses. I mean we are women! we should be cute and dainty. Not horrible looking monsters that came out the swamp!
Of course, while I looked like a horrid creature, cute men are walking up to my window.
Asking me how I am doing? Blah blah.
I am staring at them like a zombie with a smile on my face, answering their questions in my cute adorable manly voice. (ugh losing my voice of course)
I was applying my lip balm. Not so adorable or sexy. I couldn't attempt that if I tried.
How I wished I had looked:
How I really looked: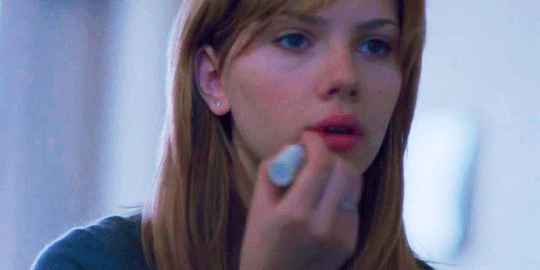 I looked over to find a cute guy walking up to my co-worker's window, watching me. His expression
I almost dropped my lip balm!
While my morning was ok, it began to go downhill when a customer ordered his breakfast. A egg muffin meal that is all. He began to tap his interac card on the machine.
Seriously, dumb ass! Does it look like it is ready for you to use, I thought?
I waited for him to tell me his drink. He did not.
"what would you like to drink?" I asked with a smile.
He looked at me like I was dim-witted. "What do you mean what do I want?!" he snapped. "a coffee! A coffee comes with the meal doesn't it?!"
The smile faded from my lips. My eyes narrowed. It took all I had not to reach across the counter and bitch-slap the stupidity from this guy's face. "I do not know what you want sir. So please do not assume I do. " I answered. "coffee comes with the meal but do I know that is what you want?"
My co-workers are gaping at my bluntness.
The customer is stunned for a moment. "Oh yes. Coffee is what I wanted."
I pasted a fake smile on my face. "Alright then what size"
"Obviously the size that comes with it!" he snapped.
"Sir, again. I don't know what you like. That is why I am asking!" I snapped.
"But the size is small"
"We  give out smalls here but it is usually medium or large for most of the customers," I answered.
The customer was completely dumbfounded. "Oh"
Fucking idiot. Does it look like I am going to put up with your bullshit today, I thought as I accepted his money.
For the afternoon I had to be in First Booth. Oh, joy.
I was fully prepared for any emergency I may have run into. Disinfecting myself.
I had tissue, lots of wet sanitised bar towels to wash my hands, paper towel. The First Booth looked like a Triage center. Steve walked in and groaned. "Oh my god, Becky!"
"What?" I exclaimed. "I am fully prepared!"
He burst out laughing. "Dont tell me your sick!"
"Allergies, Steve! Allergies! They are killing me!"
"Gross, stay away from me!"
"Ok"
Then the nightmare continued.
When do your dollar drinks start? -The huge reader board outside didn't tell you!
How does .053 become .055? I rounded it myself so it should be .050! – uh, math. 3 cents and up is 5cents. 5 cents and up is 10 cent. duh.
so what kind of salads do you have? Is it 610 calories? or 630 calories? – what the fuck are you talking about! Don't order the meal by calorie number!
Wow thank god I was only in there for awhile.