I had a rough weekend.
Took me awhile to recover from Friday. I had been in First, which meant standing in one spot four hours straight. Then after work finally moving. Did me no favors. I could barely move. I was like an old woman.
so imagine my grumpiness when the scheduling manager calls me into his office. He wanted to know if I could increase my hours next week. I stared at him. "No." I replied flatly, "I am not ready for increased hours. Its too tiring." I had a doctor's note that stressed that I was not to exceed 4 hours. I was pushing 4 1/2 hours.
He made a sound. "Its time to start pushing yourself." he told me.
My eyes narrowed. Really? I have never felt sorry for myself. I have always worked myself when I was sick. I worked until the day I was admitted until the hospital. He was comparing his sore back to my cancer diagnosis. Bitch please!
"I will not be increasing my hours." I walked out of his office.
I was happy to be on orders all day. It was fun. We were singing songs.
Of course there were some customers that were beginning to annoy me.
A customer was mumbling his request. I kept asking him to repeat himself because I couldn't understand what he was saying. "Extra ice!"
"Enunciate your words!" I exploded, "it will keep you alive."
Another customer changed her order and keep repeating it. A no no. Do not keep repeating your order unless we ask you to. If you repeat it without us asking, it implies you want double the order. "Its on the screen!" I snapped. I had to walk away from the till.
AND I OOPS:
One of the girls dared me to post something about VSCO girls on our WTF  town page  on Facebook. I said ok.
"Really?"
"yes I will do it."
The girls wouldn't believe I could do something silly. Are you kidding? I had taken orders with a box on my head. I did the Carleton Dance in Lobby in front of customers. I took orders as a Valley Girl, I also took orders in a sexy voice. I am a big goof ball!
After work I posted the VSCO thing on Facebook. I was surprised by how many other ladies were SkSkSk.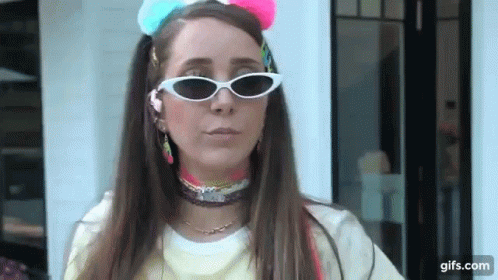 It was a good end to a rough morning 🙂