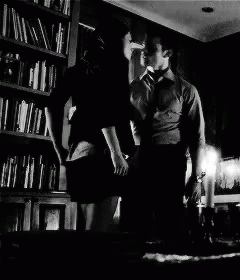 "This is a bad idea" he whispered. "but I cant help myself . Some part of me had been hoping you would take my hints. I had no idea just how oblivious you were, though."
I stared at him questioningly. His words left me confused. He took a step towards me. He pulled me closer.
"You have been on my mind, I go to bed and I think of all the ways I want to fuck you," a smile tugged on his lips when I blushed at his words, "to make love to you. So yeah, its a bad idea" His head lowered. His breath teased my trembling lips.
His name was a protest and it died  on the tip of my tongue. The heat of his blue eyes seemed to scorch through me. Igniting every cell in my body. "Doesnt seem like a bad idea to me" I managed.
He chuckled. "I warned you"
His mouth came down on mine. Hungry. Leaving me breathless.
The world fades, and it was just him. The touch of his hands on my body. The taste of him on my lips. My heart beat roaring in my ears.
He slowly lifts his head and he smiles down at me. His fingers raise up to stroke my hair away from my desire filled eyes. "You are not the shy girl I once knew" he teased. "Good"
-tease!