I dont know what is worse.
Anticipation or being in complete ignorance.
Why am I pondering this?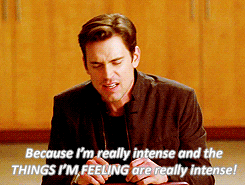 the dreaded days of finales are upon us.
The butchering of shows left a bloodbath in their wake.
I am a tv junkie, I hate finales, hiatuses and cancellations as it is, but this 2018 season was unbelievable with its victims! The finales? Cliffhangers! If you dont want any SPOILERS this post isnt for you! Do NOT go past this point!!!
Lets start with Lucifer! One of my favorite Monday shows! Do not be afraid to retweet #SaveLucifer After a torturous 3 seasons of Lucifer insisting that he was the Devil,  Chloe finally saw through Lucifer's "metaphors"  Her reaction was priceless! Silly woman, he always told her the truth, but she never believed him. However, what I liked most about this two-parter was how Chloe Lucifer and Ellie were there for Dan when Charlotte was killed. Tricia Helfer and Kevin Alejandro's performance was on point!
Only for Fox to cancel the show on a cliffhanger! Fluck you Fox! You keep Beat Shazam and the Orville! The ORVILLE! Oh my god! The indecency!
Lethal Weapon: I love Riggs.  His tortured soul, willingness to cheat death, his unrelenting need to drown out the horror of his wife's death and his childhood with alcohol or adrenaline either made him a crazy son of a bitch or a fool. He was finally getting his life together with the help of his partner, a new love and a chance for a second family. And what happens? He gets killed at Miranda's grave!
When I heard the news of firing Clayne Crawford on Lethal Weapon. Oh my reaction wasnt pretty. Talk about unprofessional!
Blacklist: I didnt think I would ever be able to recover from Redd's secret! The fact that Liz outplayed him using a Blacklister was brilliant! She certainly learnt from him. Using Sutton Ross Liz and her sister Jennifer manipulated Reddington to a showdown that ultimately revealed the duffel bag of bones that Mr. Kaplan, Tom Keen, Nik Korpal died for, were of the real Raymond Reddington. The man Liz thought was her father? Was an imposter! So while Redd burned the bones and Dom looked on, Jennifer and Liz vowed their revenge.
This afternoon while I was on my break a thought came to me. For thirty years, Sam (Liz's Adoptive father), Dom, Dembe, Mr. Kaplan all kept the imposter's secret. Maybe he killed Katerina (Liz's birth mother) to keep the secret. Jennifer mentioned that one day 2 years ago, her mother Nancy was shot. By some unknown killer. Maybe it was Redd. Redd killed Nancy to keep his secret.
I stopped chewing my burger, blown away by the idea.
Ugh I hate finales! They leave me an emotional mess! I am too much involved with my characters!